Originally posted on News blog for the Roy Rosenzweig Center for History and New Media (RRCHNM). Read the the original post here.
Today RRCHNM is publishing the third issue of our open-access, peer-reviewed publication Current Research in Digital History. This issue features six essays on topics ranging from the Student Nonviolent Coordinating Committee's (SNCC) national network-based infrastructure, maritime mobility in mid-nineteenth century Puget Sound, and reimagined regional identities of Colorado and New Mexico's San Luis Valley, to women's key roles as mediators in Ottoman-Algerian socio-political networks, a critique of History's (formerly The History Channel) nominally historical programing, and the "news(paper) diets" served up to early-twentieth-century American readers.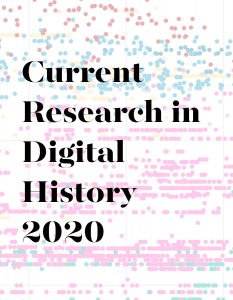 Editors Lincoln Mullen and Stephen Robertson worked with Editorial Assistant Greta Swain, as well as this year's program committee, consisting of Christopher Church, Kalani Craig, Maeve Kane, and Crystal Moten, to produce this issue. The online publication platform for CRDH was designed by Kim Ngyuen and Ken Albers to allow for interactive visualizations, data and code appendices and other features not typically available from other humanities journals.
The primary aim of Current Research in Digital History is to encourage and publish scholarship in digital history that offers discipline-specific arguments and interpretations, rather than simply showcases digital projects. By featuring short essays, it also seeks to provide an opportunity to make arguments on the basis of ongoing research in larger projects. Given that these are brief articles about work in progress, CRDH is committed to a fast peer review and publication schedule.
The journal welcomes submissions of short-form, interpretative essays in digital history.